Welcome
Welcome to Handy Stop Nursery!
We are a retail garden center serving the communities in and surrounding Lavaca and Dewitt counties. Our specialty is that we know TEXAS gardening because we've been helping Texans (whether planted here or planting now) since 1971. Our team has over six decades of experience in gardening, landscape and plant production. In fact, we grow a substantial portion of your plant material wants from beautiful bedding color to majestic 100 gallon oak trees.
Conveniently located on Highway 111 East in Yoakum, we invite you to drop by to enjoy the gorgeous selections and friendly staff.
Location & Hours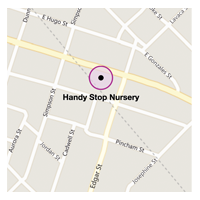 P416 E. Morris
Yoakum, TX 77995
Click here for Map
M-F 8am - 5pm
SAT 9am - 3pm
SUN 9am - 4pm (Feb-May)